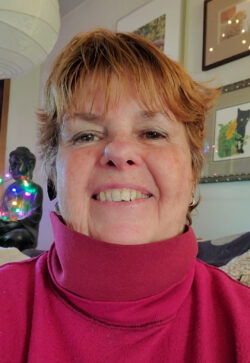 Bonnie is a gifted conscious channel, having connected with many different non-physical levels of energy during the fourteen years that she's been practicing. Her greatest pleasure is in sharing the information that comes through in order to benefit whoever is ready to hear it.
She has an eclectic background that includes the study and practice of Astrology, Tarot, Tai chi, Yoga, Reiki, and many other forms of personal enhancement. All of this has been beneficial in the growing process of who she is as a human being and as a channel.
Bonnie co-authored, with her same-soul close friend Beverly Munchel-Kievit, the inspirational Creative Transformation Card deck. This deck is helpful in developing one's personal connection to the non-physical and enhancing personal growth, along with giving valuable advise to any question asked.
Bonnie resides in York, Pennsylvania with her four cats Bodhi, Margaret Grace, and the new sister act of Lily and Sallie Lou. She awaits the return of her husband Mike, who is walking in as we speak.